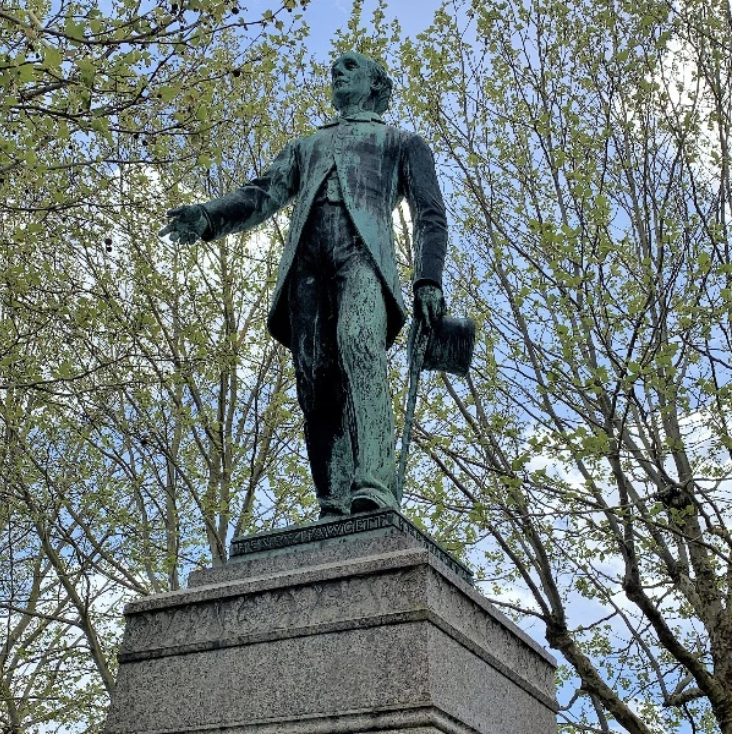 In the market square of Salisbury stands the statue of Henry Fawcett. Ask most people passing by who he was or what he did to be memorialised in this way and they probably wouldn't be able to tell you. But you might be interested to know: Henry Fawcett is a local-boy-made-good and one of England's most influential, yet least known, social reformers. He campaigned on many issues, including free primary education for children and rights for women. It is because of Henry Fawcett, who became Postmaster General in 1880, that we have savings stamps, postal orders and a parcel post. Moreover, his development of the post office's life insurance and annuities schemes has been argued by some to be the very beginning of the Welfare State. Born in Salisbury in 1833, he lost his sight after a shooting accident on Harnham Hill in 1858, when he was only 25. His loss of sight did not deter him from completing his education at Cambridge, becoming an economist, professor and then a Radical Liberal politician. However, according to some his greatest achievement was his campaign to prevent the New Forest from being destroyed in the mid-to-late 1800's. One writer has even remarked that; "Probably no one did more than he did to prevent the disafforestation of Epping Forest and of the New Forest."
The threat of 'disafforestation'
From about the middle of the 19th century onwards serious attempts were made to commercialise the New Forest by enclosing the best parts for timber production and selling off the rest for development. However, to do this its legal status would first have had to be reduced to that of ordinary land, known as 'disafforestation'. The commoners, with their ancient rights and privileges, were viewed as an impediment to this process and under the 'New Forest Disafforestation Act 1871' proposals were made to 'vary or extinguish all rights, powers and privileges, which would interfere with any of its objects'. This of course would have meant an end to the Forest as you may know it today, with free-roaming ponies, cattle and donkeys; pigs at pannage; ecological biodiversity of international importance; and landscape beauty of unparalleled quality.
Henry Fawcett wins the day
Fierce opposition from protagonists, chief among them Henry Fawcett, caused the Act to be withdrawn. There was also an unprecedented nationwide public outcry from appalled citizens who wanted to preserve 'the scenic qualities of the forest'. Fawcett was therefore able to propose in Parliament (1): "That, in the opinion of this House, pending legislation on the New Forest, no felling of ornamental timber and no fresh inclosures should be permitted in the New Forest; and that no timber whatever should be cut, except for the purposes of thinning the young plantations, executing necessary repairs in the Forest, and satisfying the fuel rights of the Commoners". Henry Fawcett won the day. The 'pending legislation' to which Fawcett had referred eventually became the New Forest Act 1877. This Act is generally seen as the salvation of the New Forest, as it set a limit on land that could be enclosed at any one time for timber production; reconstituted the Verderer's Court to be the guardians of the commoners, common rights, and the Forest landscape; and, set out the responsibilities of all Forest users, including the Office of the Woods, forerunner to the Forestry Commission (now Forestry England), and even the general public.
Commons Preservation Society
The success of the 1877 Act had been made possible by a growing sentiment for Britain's natural heritage, the emerging politics of the new liberal movement and the activities of the Commons Preservation Society. Of course, by now, it will come as no surprise to you to learn that Henry Fawcett, with other luminaries such as John Stuart Mill, Octavia Hill and William Wordsworth, supported the foundation of the Commons Preservation Society in 1865, which was committed to 'the protection of the commons and public open spaces'. The recreation areas and public parks found today in Britain's towns and cities exist as a direct consequence of this Victorian organisation, now known as the Open Spaces Society. The legacy of Henry Fawcett has had a national impact, which continues to this day. Next time you are in Salisbury take time to visit Henry Fawcett's statue and perhaps reflect upon his achievements. Indeed, when you next visit any public park or even the New Forest itself, spare a thought for this remarkable man who helped to preserve these precious spaces for future generations.
Mr. Fawcett, NEW FOREST. —RESOLUTION Hansard HC Deb 20 June 1871 vol 207 cc328).
Photo of Henry Fawcett's statute by the kind permission of https://www.slow-travel.uk/post/henry-fawcett-in-salisbury